Zgjim Mikullovci is a 24-year-old from Kosovo who was awarded the prestigious Fulbright Scholarship to pursue his Master's in Law at Georgetown University in Washington, D.C.
He graduated from the University of Prishtina's Faculty of Law, where he developed a keen interest in different fields of law, especially international commercial arbitration and public international law. During his studies, he also interned at a USAID project and worked with non-governmental organizations. After graduating, he gained practical experience by working at a local law firm focusing mainly on business and commercial law.
"I was specifically interested in going to the U.S. as I wanted to gain knowledge and experience in the common law and the U.S. legal system. From a cultural perspective, I grew up with U.S. spirit, music, and movies. Therefore, I applied for the Fulbright scholarship, and since then, I started researching about law schools and their programs, and I found Georgetown has one of the best corporate law and international law programs in the United States" Zgjim told Atlantiku.
At Georgetown, Zgjim decided to focus on corporate law after being exposed to so much knowledge that wasn't available in Kosovo. "The way corporations are organized and work in the U.S. interested me, and thus, I wanted to learn more about how corporations are created, how they are governed, and how corporations merge or are sold. Therefore, I am mostly focusing my studying in mergers and acquisitions and capital markets" he says.
Despite the challenges of adapting to the U.S. legal system, which is a common law system, different from Kosovo's civil law, Zgjim was able to overcome classes that seemed overwhelming at first by studying and learning new studying methods. "I talked to professors, faculty members, and alumni, which provided great insight on important steps to be undertaken as a law student to succeed" he continued the conversation with Atlantiku.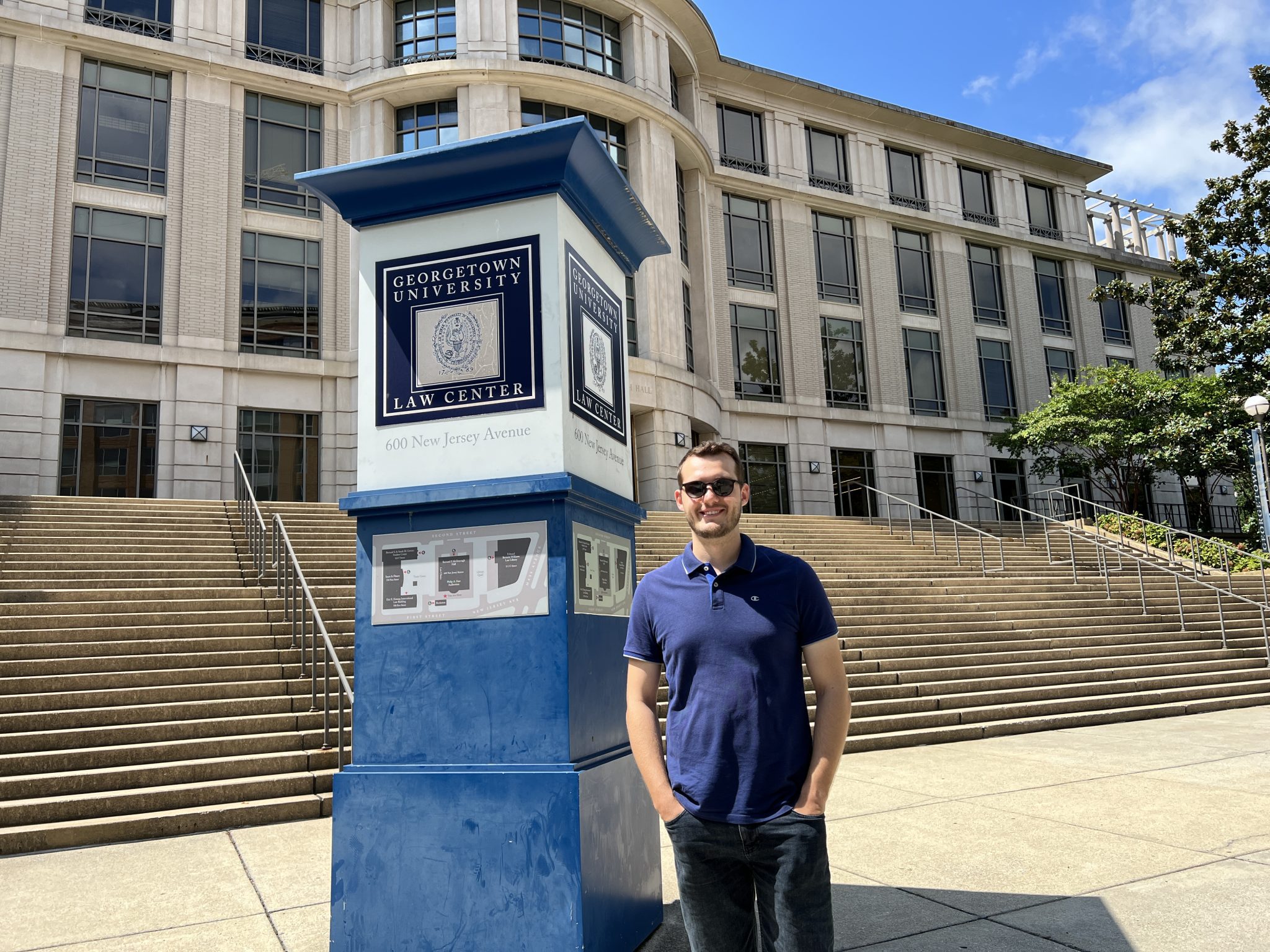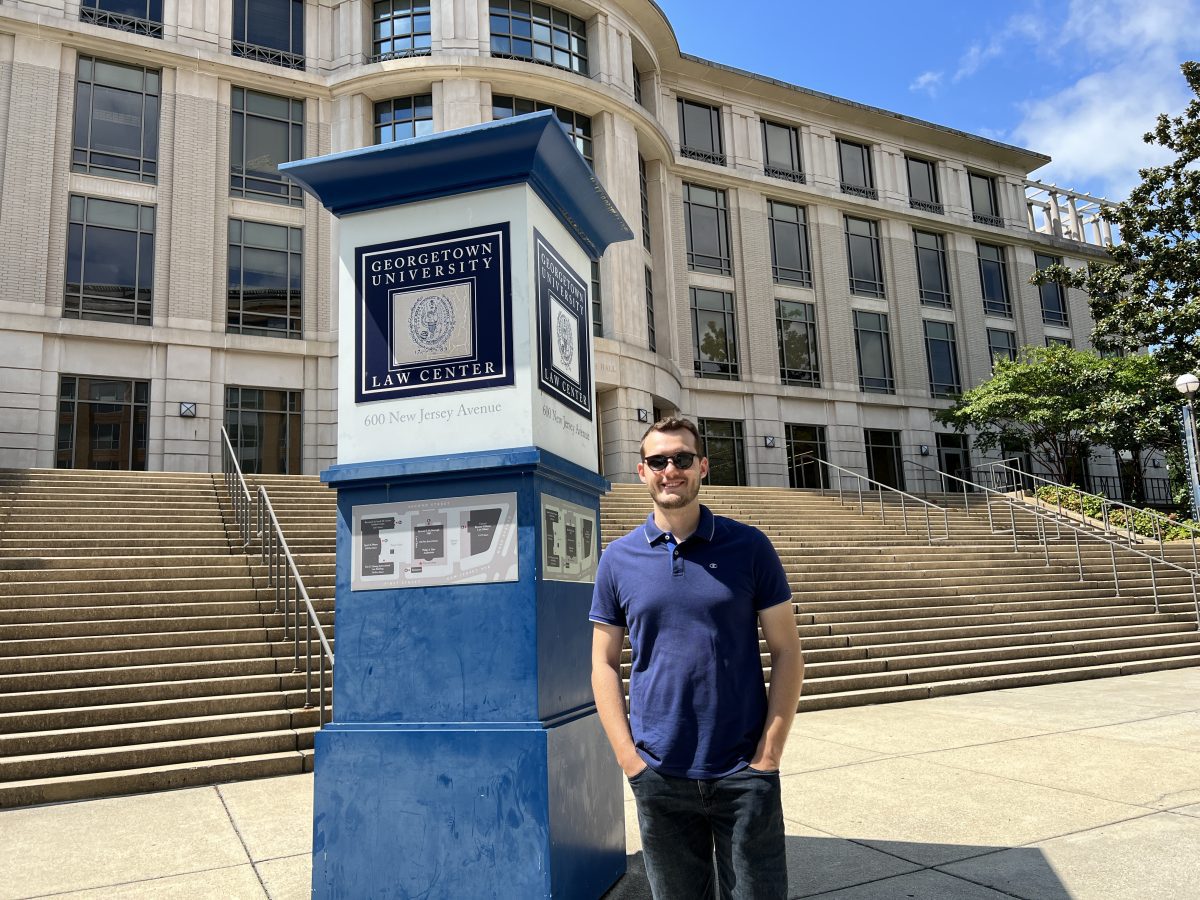 Zgjim has had a great experience as a Fulbright student, finding it easy to make friends, with most people being nice and friendly. "Fulbright provides great support to its students, by inviting us to several Fulbright networking events, and Fulbright in itself carries great prestige. Georgetown Law offers great opportunities for students, there are several interesting events every week" added Mikullovci during the interview.
To make connections in Washington, D.C., Zgjim joined several student organizations at Georgetown and worked on projects with the community. "I met with Fulbrighters in the DMV area (DC, Maryland, and Virginia), and some partners and associates at law firms in Washington, D.C. Georgetown Law holds several events weekly, such as panel discussions, and they provide for excellent networking opportunities"
Zgjim is currently working on a research article that will be posted on the blog of Georgetown Law's Center on Transnational Business and the Law. The topic is business and human rights, in particular the discussed treaty on Business and Human Rights proposed by the United Nations Council on Human Rights. "Considering the many human rights violations done by big transnational corporations operating in developing countries, where the main victims are local employees, a group of states led by Ecuador proposed a treaty to end corporate impunity. It is still being negotiated, and the draft treaty has had several changes, but its main purpose is obligating states to take measures and enact legislation to ensure that businesses operating within their jurisdiction respect human rights" he told us among other things.
"I think that two of the key components in Kosovo's development are: education and business. I want to apply the professional skills that I have acquired at Georgetown Law as a lawyer in Kosovo by providing more qualitative services to companies, and also be engaged with the government in enacting new and more modernized legislation in the field of entrepreneurship and corporations. I plan to lecture in any of the public or private universities, by implementing a U.S. style of teaching, and teaching the knowledge I've acquired at Georgetown, specifically in the field of business law"- he answered when asked how he intends to apply his legal knowledge and skills upon his return to Kosovo./Atlantiku